MOVED OUT: A large number of police officers were in place outside the primary school on Tuesday.
UVALDE / OSLO (VG) The perpetrator is said to be an 18-year-old from the small town. Police confirm he was killed.
The death toll rises after the attack on a primary school in Uvalde, Texas, on Tuesday.
So far, 19 children and two adults have been confirmed dead, state spokesman for public safety Erick Estrada told CNN.
The suspected perpetrator was also killed during the incident.
The number is expected to rise further, according to the police, reports an ABC journalist Twitter. Hospitals have asked for blood donations to treat the injured.
Numerous Politicians and activists have called for the United Stateswhich has registered 212 shooting episodes so far this year, is tightening gun laws.
The 18-year-old is said to have bought two rifles on his 18th birthday, according to a state senator, reports NBC News. The information has not been confirmed.
Senator and Democrat Gutierrez of Texas said he was told in a briefing by the Texas Rangers that the gunman bought two assault rifles from a store in Uvalde County.
The authorities have not said definitively which weapons were used.
– God, let my children be well
Uvalde is a small town of about 16,000 inhabitants, about 135 miles west of San Antonio, in the far south of Texas.
– God, let my children have a good time, says Sandra Rivera (33) to VG about what she thought when she heard about the shooting episode in her hometown.
Her children – three at six, fifteen and sixteen – were at school when it happened, a different school than the one that was affected. She hurried to bring them home, she says.
– Everyone knows everyone here. So it's quite difficult. But, I mean, it's a very, very good city, and I know everyone will stand together and help.
Neighbor: Heard shots
– I heard the shots when I picked up the mail and I saw someone running towards the school, says a neighbor of the primary school to VG.
He and his wife do not want their names printed. When the man heard the shots, he went in to get his own weapon, he says.
– I saw that bastard run through, he says.
– When the sound started to get closer, I thought damn it, that's it. So I grabbed my weapon.
– In sorrow
Texas Gov. Greg Abbott previously said the students killed were between seven and ten years old. They went to second, third and fourth grade at school.
"When parents deliver their children to school, they expect to know that they will be able to pick up the child when the day is over," the governor said after the tragedy.
– And there are families who are in mourning right now.
Abbott has identified the suspected perpetrator as Salvador Ramos, an 18-year-old from the small town. Police have also confirmed the suspect's identity to the New York Times.
Ramos is said to have shot his grandmother before he entered primary school.
Protected their students – was killed
Eva Mireles, a primary school teacher in Uvalde, Texas, is the first victim identified.
She tried to protect her students when she was killed by the mass shooter, according to New York Timeswho has spoken to her aunt on the phone.
Mireles had been a teacher for 17 years and her aunt says she was "very much loved". She was 40 years old, married and had one child, the newspaper writes.
Ten-year-old critically injured
The first reports of the mass shooting came on Tuesday at 12.17 local time (19.17 Norwegian time).
A large number of police officers moved out, and all schools in the area were closed.
Two policemen are said to have been shot during the exchange with the perpetrator. They should not have significant damage.
Robb Elementary School has about 475 students.
The rest of the school year should be cancelled.
Uvalde Memorial Hospital (UMH) signs Facebook that they have admitted 13 children to the hospital.
– Two individuals who arrived at UMH had died. No further details are available, they write.
CNN has spoken to the hospital, which says that they are also treating a man in his 40s.
San Antonio University Hospital confirms that a 66-year-old woman and a ten-year-old girl are critically injured. They also have a ten-year-old girl inside who is in stable condition.
– Someone is shooting
– Someone is shooting inside the school. I love you.
The message above must have come from a gym teacher at the track school, who texted to someone in the family, writes local journalist Anastasiya Bolton on Twitter.
A woman tells a local TV channel that her granddaughter was shot in the leg, but survived.
– Grandma, it sounded like fireworks. It was non stop, the woman says that the granddaughter said KENS 5.
The perpetrator (18) is said to have been a student at Uvalde High School. He is said to have acted alone and was killed during the incident.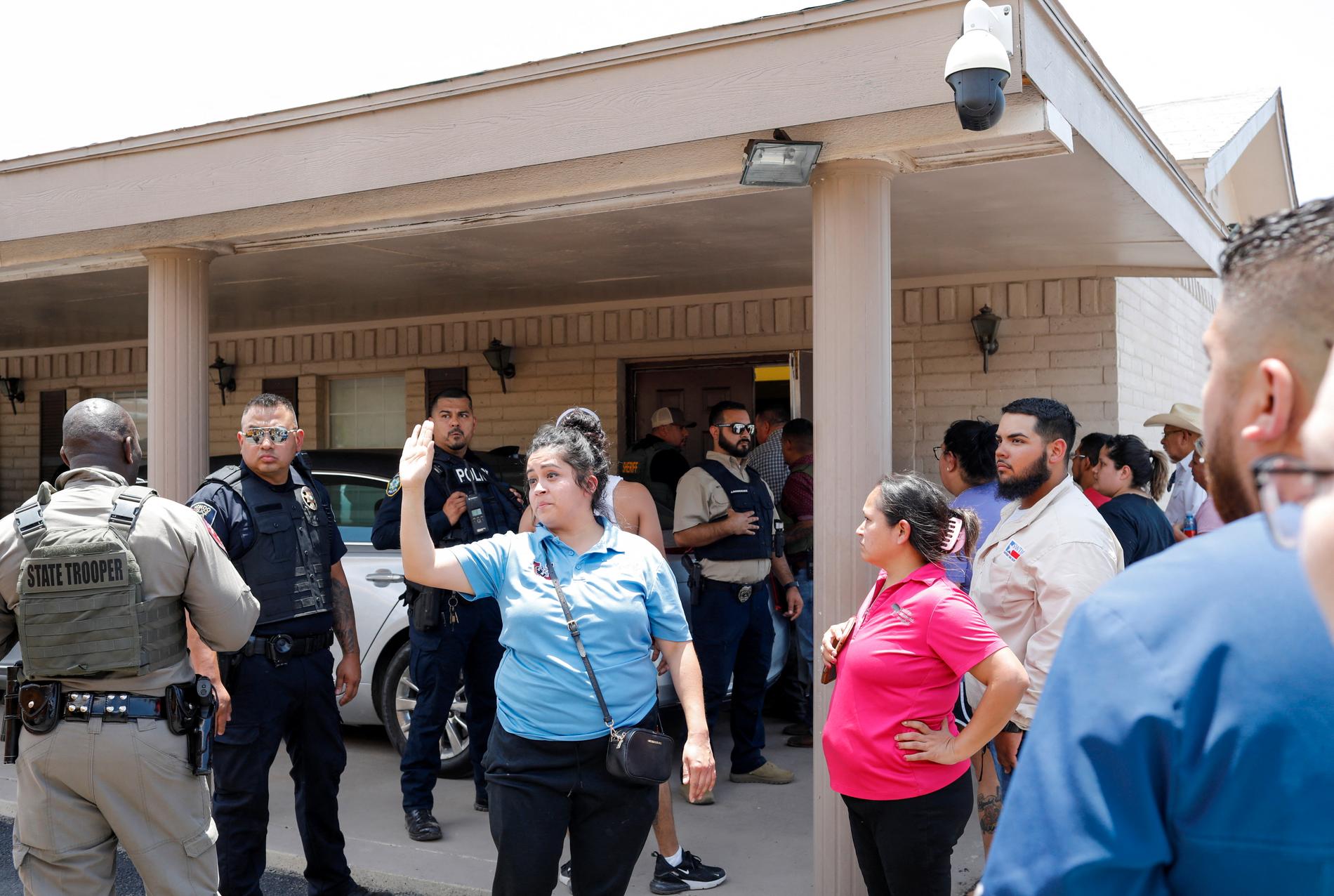 Deadliest shooting in a decade
– Why are we willing to live with this carnage? in US President Joe Biden in a speech after the incidentin which he called for stricter gun laws in the country.
Tuesday's attack was the deadliest shooting incident at an American elementary school in nearly a decade. Most recently, it was Sandy Hook Elementary School in Connecticut that was affected. 26 people – 20 children and six employees – lost their lives in the mass shooting in 2012.
On Tuesday afternoon, there is a large gathering of media on the spot. While the investigation is going on inside the school, local churches are holding several gatherings for the local community in mourning. People who live near the school are clearly affected and disbelieve in what has happened.
CBS News has spoken to another neighbor who says he heard several shots.
– We were on our way to lunch when we heard shots. More and more came. We got in the car and drove around the corner, where the school is located. Then we saw employees at a funeral home who cried and said that people were shooting at the school, says Derek who runs a car repair shop nearby.
The funeral home is located next to the primary school.
– I heard maybe four or five shots, he says.
His aunt teaches fourth grade and a nephew and niece go to school. They are safe, according to the neighbor.
– My aunt heard shouting and saw silence afterwards. They probably hid then, he says.
The post 19 children and two adults killed in school shooting in Texas – VG appeared first on World Today News.