Celine Marie Claudette Dion, that is the full name of one of the best voices that Canada has given and also of a woman who has managed to reinvent herself like few others and become a fashion icon at an age that is not usual. She was discovered when she was just 13 years old, for whom she would be the great love of her life, René Angélil. At the age of 20, she won the Eurovision Song Contest representing Switzerland and got the boost she needed to open a gap in the difficult world of music. The 90s brought her up one of her most recognized singers and she sold millions of records. She was in charge of interpreting the central theme of the movie Titanic: My Heart Will Go On, a song that won her the Oscar and the Golden Globe. The 2000s saw her triumph on the Las Vegas stage, where she created one of the most successful shows of all time. After the break she made in 2014 to take care of her husband, sick with cancer, a different Celine returned, leaving the world of fashion with her mouth open. Her daring and sophisticated looks and her ability to interpret her trends have made her one of the essential names in the front rows of Fashion Weeks and, of course, of street style. Celine Dion is a fashion reference in her own right, a woman who can handle all styles and who has the personality to stand up for almost any look. With the glamor of old Hollywood glories, an enviable figure, and unquestionable originality, Celine has brought the most impressive haute couture designs to the streets. From her last appearances in New York, to her time in Paris Haute Couture (and a look at her first outfits), we review her looks that have made her a fashion icon.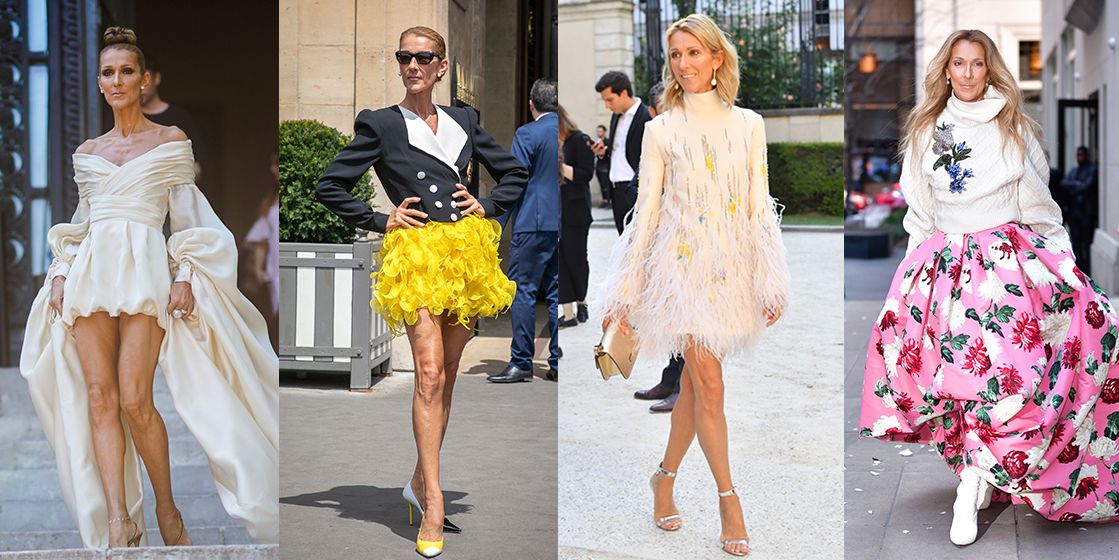 Celine Dion has become one of the essential faces of fashion weeks. The Canadian singer, who has just turned 52 years old, has been demonstrating for some seasons her ability to set style, combine trends and be a protagonist in the front row of the front row and in street style. Now, without being able to enjoy her outfits at her street level, we have no choice but to settle for the images that she shares on Instagram to verify that, despite the quarantine, she does not renounce her personal style . The singer has shared a video during a recording session in which she wears a look that perfectly defines her style: skinny jeans in makeup color combined with a denim shirt with a bow on the neck and beads, a cropped sweater with a floral print by Elisabetta Franchi, a fur coat and platform heels in nude Yves Saint Laurent that show that she does not belong to the club of celebrities who have been seduced by athleisure.
The film "Aline", inspired by the life of Celine Dion it is postponed to November
The highly anticipated film "Aline" by and with the French Valérie Lemercier, inspired by the life of Celine Dion, it is postponed for nearly a year,
until November 2021.
Also
Celine Dion's world tour will not be able to continue.
On Tuesday night, the Canadian singer announced that two of her shows, one in Washington D.C., and one in Pittsburgh, will be postponed as the singer is ill.
"We regret to inform you that due to a cold, Céline Dion will postpone two performances of her 'Courage' World Tour scheduled for this week in Washington, D.C.
and Pittsburg, PA.
The dates of the shows have been readjusted as follows: Wednesday, March 11 in Washington, D.C.
at Capital One Arena has been reset for Monday, November 16, 2020. On Friday, March 13, in Pittsburgh, PA at PPG Paints Arena has been reset for Wednesday, November 18, 2020, "his team explained in a
communicated through Facebook.
Due to her symptoms, the native of Quebéc decided to undergo tests for the new coronavirus.
"On Monday night, the day after completing six shows in a row in the New York area, Celine began to feel symptoms of a common cold.
Symptoms persisted until Tuesday, and her doctors told her to rest for the next 5-7 days.
After testing her, the doctors concluded that her virus is not related to COVID-19, "they added on the social network.
"I am so sorry for disappointing my fans in Washington D.C.
and Pittsburgh ... I hope everyone understands, "said the Canadian in the statement.
According to the singer's page, she will resume her tour until March 24 at the Pepsi Center in Denver, hence her schedule will be very busy until September and then until the new two dates that she announced on Tuesday.
In June of last year, before starting her world tour, the businesswoman also finished one of the most important chapters of her career: 1,141 concerts at the Caesars Palace Coliseum after 16 years of residence in Las Vegas, Nevada.
The Grammy winner never thought that her stay in "Sin City" would span nearly two decades, almost the age of her eldest son, René-Charles Angelil.
Together with the 18-year-old and his twins Nelson and Eddy, 8, Celine remembered her husband René Angélil, who died at 73 in 2016.
Holding hands, the Canadian and her children were moved because behind them, on the giant screen, the image of a member of her family appeared, leaving an irreplaceable void.
It happened with the song "Somewhere over the rainbow" in the background, while images of her husband and her children appeared on the screen.
René, being Dion's manager, had a lot to do with his wife's historic residence, who shared with the public: "I am proud of what we have accomplished at the Colosseum since we started 16 years ago, when René and I started to share this dream ".
"When we started preparing it, I was… I don't know. I don't think I understood something, and I thought I would be here for three months. But it's been 16 incredible years, "Celine told her audience.
Her husband was behind her first millionaire contract, in 2003, for 600 concerts in the Colosseum built especially for the singer and with capacity for 4,000 people. The first stage stood out for having a "Cirque Du Soleil" type concept, where Celine interacted with dozens of dancers.
Céline Dion, dedicates social love to her husband on the fifth anniversary of his death.
her husband René Angélil: certain loves are destined to last forever.
Even after death.
He passed away in 2016 due to throat cancer.
But she has never forgotten him and she still continues to love him.
As evidenced by the social post that the singer dedicated to him on the fifth anniversary of her death.