Are you riding 'Hanbae' from the three delivery apps?... The store owner "Are you saying everyone should die?"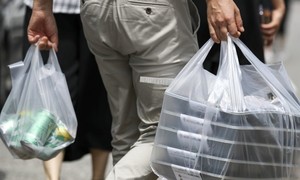 [스페셜경제=최지호 기자] The three major delivery app companies (Yogiyo, Baedal Minjok, and Coupang Eats) plan to 'one heart'.
'Yogiyo' imposes a 12.5% ​​brokerage fee on the store owner for take-out orders, the same as for delivery orders. 'Baedal People' and 'Coupang Eats' are recovering their appetite after watching 'Yogiyo'. On the other hand, another delivery app 'Wemakepoo' officially operates a 'visit-to-package brokerage commission zero' service.
According to 'Mobile Index', a mobile market analysis platform, the number of monthly users of the three delivery apps was about 31.82 million in June. This is a decrease of more than 3.5 million from March, when the number of users was about 35.32 million. It is expected to continue or decrease in the future.
According to the app/retail analysis service 'WiseApp/Retail/Goods' on the 5th of last month, the estimated amount of payment in June by the three delivery apps was 1.87 trillion won, which is a 21% decrease compared to March (2.35 trillion won). .
Consumers are feeling the burden of increased delivery costs and at the same time as social distancing is lifted, there is a trend to prefer eating out instead of delivery.
Baedal Minjok and Coupang Eats plan to make up for the loss with brokerage fees for packaging orders. The two companies extended the 'packaging order brokerage commission of 0 won' promotion, which was scheduled until the end of June, by three months until the end of September. However, an industry insider pointed out, "These promotions are a kind of time-gaining to try to save money," and added, "After the promotion ends, a 6-9% brokerage fee will be charged, the same as the delivery fee for each packaging order."
For delivery apps, the brokerage fee for packaging orders is a 'bondage'. This is because the delivery driver pays the delivery fee when there is a large number of orders, but package orders do not require delivery.
Restaurant owners are on the verge of an explosion. Person A, who runs a restaurant in Mapo-gu, Seoul, said, "It is difficult because the cost of ingredients is high.
On the other hand, 'WeMakeO' will operate the 'Visit-Package Brokerage Fee Zero' policy, which has been in operation since January last year, as an official service from the 11th. Store owners in Wemakepo do not pay brokerage fees when customers place an order for takeout. With the recent increase in takeout orders due to the burden of delivery costs, it seems that the store owners are trying to ease the burden of brokerage fees.
An official from WeMakePo said, "For shared growth, we have officially introduced the 'Visit-Package Brokerage Fee Zero' service.
https://www.archyde.com/are-you-riding-hanbae-from-the-three-delivery-apps-the-store-owner-are-you-saying-everyone-should-die/?feed_id=904&_unique_id=62fe5974ca948