The paratroopers received a bonus from Singha after winning 116 gold medals at the 11th ASEAN Para Games.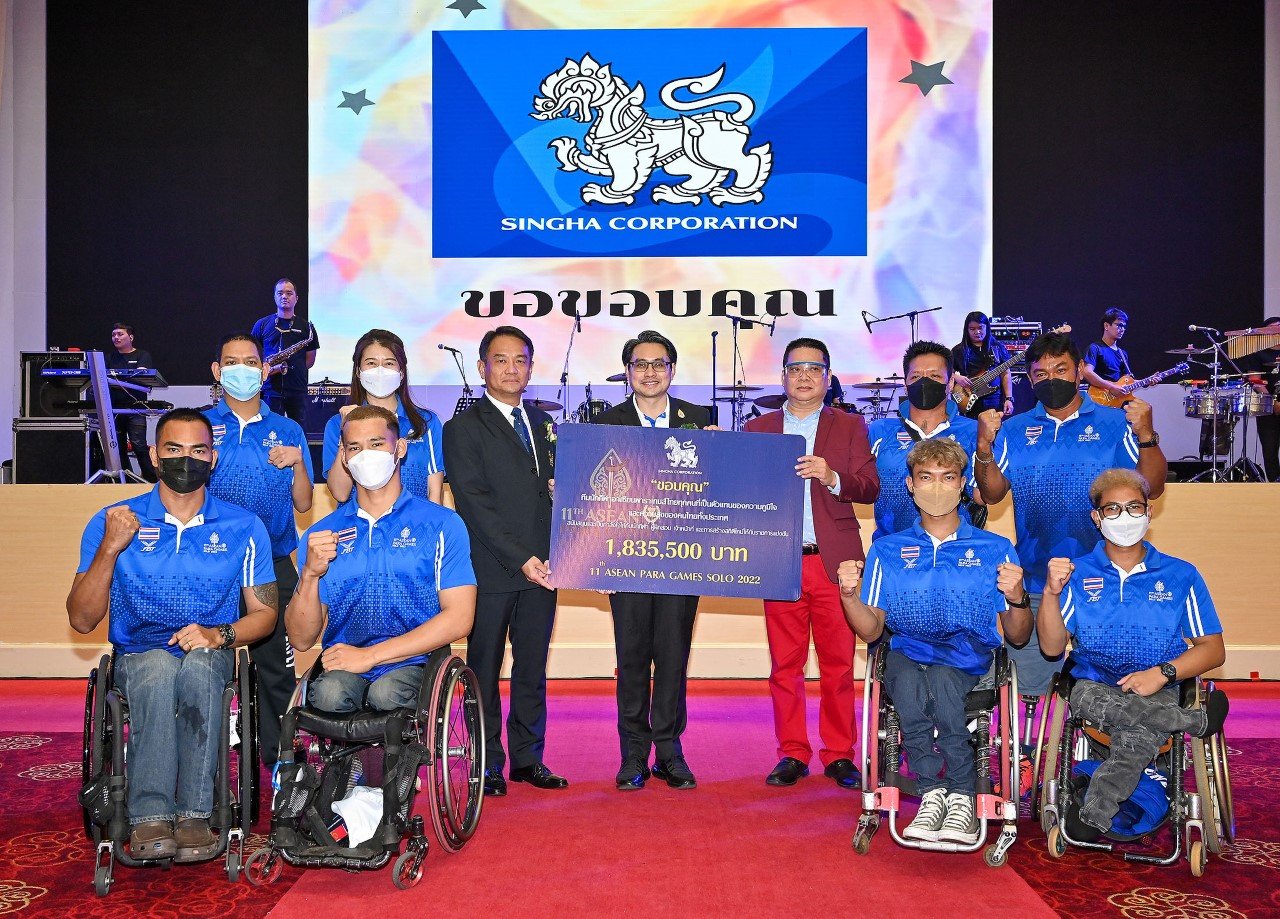 'Singha' gives a special bonus to the army of Para Thai athletes including all staff who participated in the creation of the work, winning 116 gold medals, 113 silver medals and 90 bronze medals at the 11th ASEAN Para Games in Solo, Indonesia Between 30 July - 6 August last Finished the second place, second to the "host" Indonesia, with an extra 10,000 baht for those who broke their own records. The total amount is 1,835,500 baht.
Mr. Anan Puakpiboon, Assistant Manager of Sports Promotion Agency, Singha Corporation, revealed that "Giving this special bonus To express gratitude to all Para Thai athletes as well as all staff, coaches and staff All of which are important to the development of the Thai disabled sports industry. Both successful athletes received medals. including athletes who did not receive a medal The coaching staff is always with the athletes. including the staff to facilitate Everyone has put in their hard work and time to make this event a success."
For the special bonus that Singha gave this time, consisting of 473 athletes, coaches and officials who traveled to participate in the competition. 11th ASEAN Para Games, Solo, Indonesia And give an extra 10,000 baht each for athletes who can successfully break their own records, a total of 18 items, totaling 1,835,500 baht.
by athletes breaking their own records The prize of 10,000 baht is as follows:
1. Pongsakorn Payo, wheelchair racing 400 meters, class T 53, record 50.42 seconds
2. Pongsakorn Payo, wheelchair racing 800 meters, class T 53, record 1.45.38 minutes 3. Athiwat Phaengnuea, 100 meters wheelchair racing, T 54 class, made a record 14.30 seconds. 4. Athiwat Phaengnuea, 800 meters wheelchair racing, T 54 class, record 1.41.74 minutes 5. Techini Duangin, 100 meters, women's 100 meters, class T 54, made a record 18.06 seconds. 6. History of Wahoram, wheelchair racing, 1,500 meters, class T 54, record 3.22.04 minutes 7. Pipatpong Sianglum, Saichon Konjane, Pongsakorn Payeo, History Wahoram Wheelchair Racing Relay, 4x400 meters, T54 class, record 3.29.80 minutes. 8. Monruedee Kengpila, women's 100 meter freestyle swim, S10 class, record 1.12.53 minutes 9. Monruedee Kengpila, women's 50-meter freestyle swim, S10 class, made a record of 31.79 seconds. 10. Chakon Kaewsri, swimming, backstroke, men's 50 meters, class S 3, record 1.01.20 minutes 11. Anchaya Ketkaew, women's 50-meter freestyle swim, S 9 class, made a record of 30.56 seconds. 12. Sureerat Khamkaew, women's 400 meter freestyle swim, class S 9, record 5.53.81 minutes 13. Phuchit Ingchaiyaphum, 200 meters freestyle swim, men's class S 5, made a record 2.57.89 minutes 14. Monrudee Kengpila, Anchaya Ketkaew, Sureerat Khamkaew, Wilasinee Wongnonthapoom, women's 4x100m relay, making a record 5.55.77 minutes. 15. Monrudee Kengpila, Anchaya Ketkaew, Sureerat Khamkaew, Wilasinee Wongnonthapoom, women's 4x100m freestyle relay, making a record 5.27.85 minutes. 16. Natharini Kajornmetha, women's 50-meter freestyle swim, made a record of 28.58 seconds. 17. Natharini Kajornmetha, women's 100-meter freestyle swim, made a record 1.02.33 minutes 18. Natharini Kajornmetha, women's 200 meter freestyle swim, record 2.16.32 minutes
In this regard, Singh is a supporter of the Thai disabled sports industry. continuously since 2005 as the main sponsor of Paralympic committee of Thailand and 5 disabled sports associations that have created many para Thai athletes, including the Sports Association for the Disabled of Thailand, the Sports Association for the Intellectual Disabilities of Thailand, the Sports Association for the Mentally Disabled of Thailand, the Sports Association for the Deaf of Thailand and the Blind Sports Association of Thailand
https://www.archyde.com/the-paratroopers-received-a-bonus-from-singha-after-winning-116-gold-medals-at-the-11th-asean-para-games/?feed_id=946&_unique_id=62fe87614aee8