Nearly three decades after an Indian woman was allegedly raped multiple times by two brothers, the son born from those assaults is helping her get justice.
The woman, from the northern Indian state of Uttar Pradesh, was raped over a period of six months when she was 12 years old.
Her son - given up for adoption at birth and returned 13 years later - was the one who encouraged her to denounce her alleged rapists.
Police recently arrested one of the accused, and the other man is now in custody as well.
"The incident is very old, but the injuries it caused have not yet healed," the woman told the BBC. "It has brought my life to a standstill and I remember that moment over and over again."
Every year thousands of cases of child sexual abuse are reported in India. In 2020, the latest year for which official crime data is available, 47,000 cases were recorded under the Indian Protection of Children from Sexual Offenses Act.
Advocates say far more cases go unreported because children are too young to understand what is happening to them or are too afraid to speak up.
Families are also often reluctant to report such abuse due to stigma or when the perpetrators are known individuals.
fear of retaliation
The victim, whose name cannot be revealed under Indian law, said the rapes took place in 1994 in the city of Shahjahanpur. The brothers Mohammed Razi and Naqi Hasan lived in her neighborhood and jumped the wall that delimited her house and attacked her when she was alone.
The pregnancy was discovered only when her health began to deteriorate and her sister took her to the doctor, who ruled out an abortion due to her frail health and young age.
Immediately after birth, the baby was given up for adoption..
"I suffered a lot for this child, but I didn't even get a chance to see his face. When I asked my mother, she told me: 'now you will have a second chance in life'».
The woman and her family did not file a complaint with the police for fear of reprisals.
"They threatened to kill my family and set our house on fire if I told anyone about the rape," she said.
"My dream was to grow up and join the police force, but because of those two people, all my dreams are over. I left school. I could not study".
Later the woman and her family moved to another district to escape the traumatic memories associated with their previous home. In 2000, the woman married and had a second child.
She hoped this new chapter would help her forget the past, but six years into their marriage, her husband found out about the rape, blamed her for it, and kicked her and their son out of the house.
A son in search of the truth
His first child - given up for adoption - also faced a lot of discrimination because of his identity.
His mother said he grew up hearing from neighbors that he was not his parents' son and that's how the boy found out he was adopted.
But 13 years after the adoption, his adoptive parents returned him to his birth mother.
The boy longed to know who his father was. He had no last name - in India it is usually his father's name - and he was ridiculed by children at school.
She constantly asked her mother about him and threatened to kill herself if she didn't tell him. Finally, she told him the truth.
Instead of being horrified, her son became her biggest supporter, telling her that she had to "fight this battle and teach the accused a lesson."
"If you talk about what happened, maybe more people will. That will strengthen our case and the defendants will be punished. A message will be sent to society that no one is safe after committing a crime."
The fight for justice
With the support of her son, the woman revisited Shahjahanpur in 2020 but found it difficult to register a case against the accused.
The attorney was also reluctant, saying it would be difficult to fight a case that was nearly three decades old.
The area where she lived as a child had changed radically: she couldn't even find her old house and the defendants couldn't be traced.
"How would you prove where you lived three decades ago and that's where you were raped?" his lawyer asked.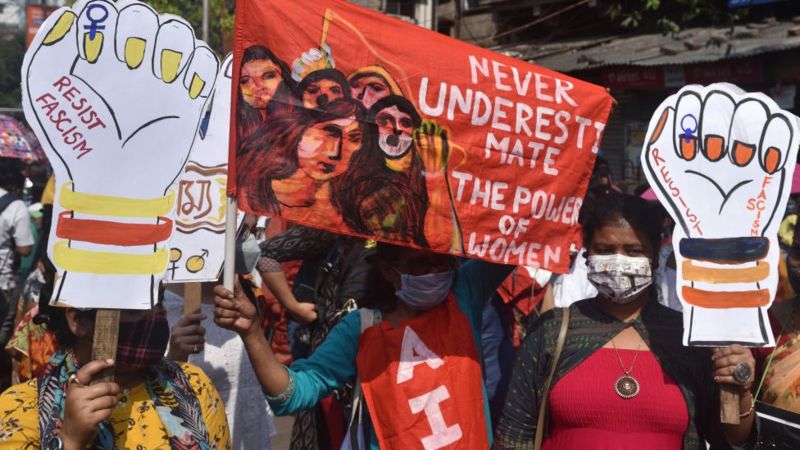 "I told him, we will bring you the evidence, you take our case," says the woman.
The lawyer filed an appeal with the court and by order of the Shahjahanpur Chief Judicial Magistrate, a case was registered against the two defendants in March 2021.
The woman said police officers asked her to find the defendant.
"I found them and talked to them on the phone. They recognized me and asked me why she wasn't dead yet," the woman explained. "I told them, now it's your turn to die."
"We must go to the police"
As explained by the police, the evidence against the defendants was obtained from DNA tests taken in February.
"We collected DNA samples from the accused and analyzed them. One of them matched the son's DNA samples," said Dharmendra Kumar Gupta, the inspector who investigated the case.
One of the defendants was finally arrested on July 31 and, shortly after, the second man was taken into custody. The brothers have not yet responded to the accusations.
The woman says she wants her story to encourage other women to report crimes committed against them.
"People are silent. I did too and thought that this was what was written in my destiny. But there is no such thing. We must go to the police so that no one else has to endure what we had to endure."
As for the son, he says he is happy that the accused have been caught.
Independent journalism needs the support of its readers to continue and ensure that the uncomfortable news they don't want you to read remains within your reach. Today, with your support, we will continue to work hard for censorship-free journalism!
https://www.archyde.com/the-son-born-of-rape-who-helped-his-mother-bring-her-abusers-to-justice/?feed_id=1159&_unique_id=62ff73cf08123