What Eduardo Costantini said about the stolen paintings he bought from a woman who kidnapped his mother | Scandal in the upper class of Rio de Janeiro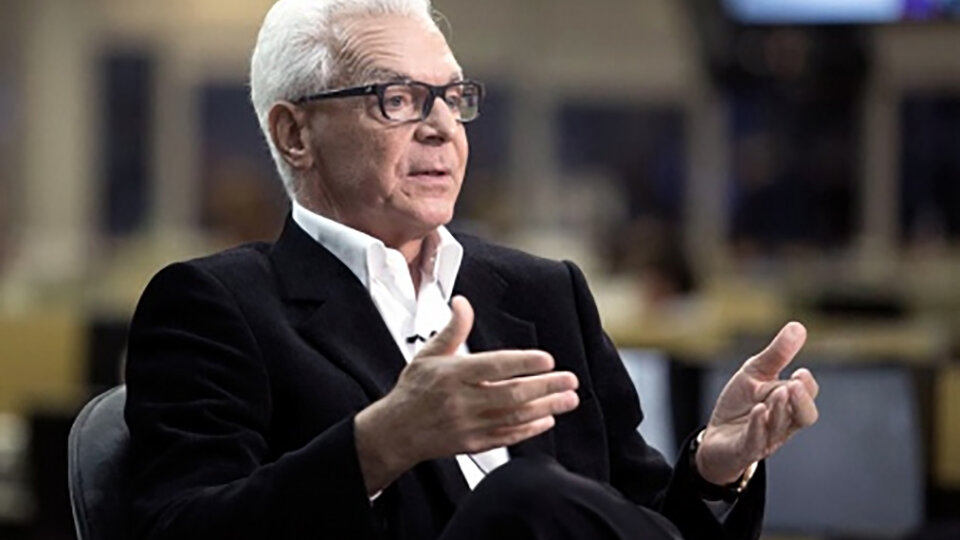 The founder of the Museum of Latin American Art in Buenos Aires (Malba), Eduardo Costantiniaccused of having bought two works from the collection of modern Brazilian art by the dealer Jean Boghici, which had previously been stolen by a woman from her mother, referred to the scandal generated around the news and assured that "in my fifty years as a collector, something like this never happened to me".
The billionaire explained that acquired the works through the gallerist Ricardo Camargo, "in good faith and duly registered". The paintings in question are Elevador social (1966), by Rubens Gerchman, and Maquete para o menú espelho (1964), a small work by Antonio Días, and are valued at $300,000 each.
Likewise, Costantini clarified that he did not know that they had previously been stolen by Sabine Boghici from his mother, Genevieve, the 82-year-old widow of the famous merchant, and explained that "during the process and until now", he maintains a direct link with Genevieve.
"I spoke to her yesterday, and she told me not to worry at all, that she knows that neither I nor the gallery owner have anything to do with this matter. In fact, Camargo helped her recover the stolen works. Genevieve will not proceed with any legal claim regarding these works, and she confirmed to me that there will be no problems with them being exhibited in Malba soon", explained Costantini.
"I have been dealing with the family for years. I met the father, Jean Boghici, a great marchard, the best eye in Brazil, a visionary of Tarsila and so many others. More than twenty years ago, when he came with his gallery to arteBA, I bought him Bòlid by Helio Oiticica, which is now exhibited in Malba. I wanted to buy Di Cavalcanti's Samba for him, and he refused, leaving it to his daughter. Unfortunately, the department in Rio de Janeiro where he had it burned down: it was an irreplaceable work", he recalled.
Finally, the collector detailed the contact and the process of purchasing the works in question. As he related, last year, the gallerist Ricardo Camargo, well known in San Pablo, called him to explain that he had works from the Boghici collection. "They were spectacular works. After agreeing on the prices, I bought two works that will now be exhibited", he signaled. These are Urso (1925), by Vicente do Rego Monteiro, and Tocant el banjo (1925), by Victor Brecheret.
And he added: "Then he told me about these two more minor works, by Gerchman and a small work by Dias, we agreed on a value, he made me the invoice and I bought them. Then, this scandal appeared."
As it transpired, the works would arrive next week in Buenos Aires from the deposit that the Costantini family has in the United States, and will be part of the new installation of Malba's permanent collection that will be inaugurated at the end of the month.
Scandal in the upper class of Rio de Janeiro
Sabine Boghici, daughter of Genevieve Boghici, the widow of one of the most important art collectors in the neighboring country, he swindled his mother and held her captive for a year to commit a hit that included the sale of works of art, jewelry and the theft of a large sum of cash.
The booty of 16 paintings and sculptures, recovered by the Rio de Janeiro Civil Police's Third Age Police Station, included three works by Tarsila do Amaral, O Sono, valued at $58 million, Sol Poente and Pont Neuf, by $48 million and $29 million, respectively, and pieces by Alberto Guignard, Di Cavalcanti, Cícero Dias, Kao Chi-Feng, Ilya Glazunov, Emeric Marceir and Michel Macreau.
According to Brazilian police, it was Sabine herself who articulated the plan in January 2020, when he hired a woman to approach his mother on the street and tell her that someone in the family would soon die.
From that moment on, the old woman was introduced to two other women, identified as a diviner and a saint's mother. The group then asked her to pay "a job" to save her daughter's life.
Thus, during the first weeks, Genevieve gave almost $100,000 to the criminals, while her daughter fired the woman's most loyal employees to isolate her in her residence. When she realized the coup and stopped making the transfers, the old woman began to be assaulted and threatened by her daughter and the group of accomplices dedicated themselves to taking pieces from the department.
Finally, this Wednesday the Carioca police arrested the four people involved in the scam.
Jean Boghici, who died in 2015, was an important gallerist who launched artists such as Dias and Gershmanand who represented foreign artists little known in Brazil at the time such as Joaquín Torres Garcia, Veira da Silva and Alexander Calder.
Also, Boghici created one of the most important collections of the 20th century in Brazil, with works by Tarsila do Amaral, Portinari, Di Cavalcanti, Volpi, Lucio Fontana and Calder, among others. In 2012, due to a fire in his apartment, he lost some of the works in his collection, among which was Di Cavalcanti's Samba.