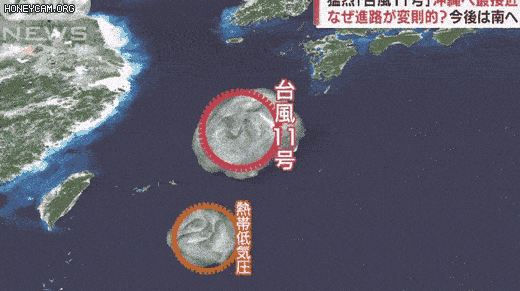 While the 11th typhoon 'Hinnamno' is heading north with an all-time high, a video on ANN's disaster broadcast in Japan in which the host explains the process of forming Typhoon Hinnam-ro by hand moving the cloud props placed on the hand-made explanation board and explaining to the viewers This is a hot topic.
This was an ANN typhoon disaster broadcast on the 31st of last month, and on the news that day, Ryoko Imamura, a weather forecaster, came to the studio and explained the route and impact of Hinnamno.
Hinnamno and another tropical cyclone cloud are displayed above the sea on a hand-made explanation board.
Mr. Imamura explained, "As the typhoon descends to the tropical cyclone, the force of the tropical cyclone will weaken, and the typhoon will eat it."
Netizens who saw this in Korea showed reactions such as "This is enough for my obsession with analog" and "What time in the world is it that you are still cutting and pasting props?"
On the other hand, there were also reactions such as "I understand it better when I listen to analog explanations", "It's strange to see such props on a disaster broadcast, not anywhere else."
The Japanese government was criticized for failing to manage the rapidly spreading confirmed cases through analog administration using documents, faxes, and floppy disks in the course of the Corona 19 process.
Reporter Noh Jeong-dong, Hankyung.com dong2@hankyung.com
https://www.archyde.com/a-typhoon-by-moving-clouds-by-hand-analog-obsession-video-of-japanese-broadcasting/?feed_id=4051&_unique_id=631dde6576e3b