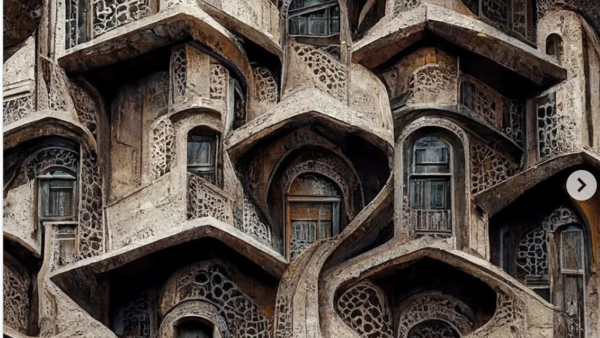 An ancient building that was said to be in Cairo, occupied thousands of Egyptians on social media, due to the beauty of this charming building in which balconies and doors bearing the character of Islamic architecture overlap.
And that picture spread widely, amid comments confirming that it dates back to the Middle Ages from Old Cairo in Egypt.
However, this image is actually a digital artwork created by an Egyptian designer using an artificial intelligence program, according to Agence France-Presse.
Egyptian designer
After research, it was found that it was published in the account of the Egyptian designer, Hassan Ragab, on the Instagram website.
The designer confirmed that the image is a "surreal design of the facades of buildings in the ancient region of Egypt" implemented through the Midjourney artificial intelligence program, using elements of Mamluk architecture.
He also explained that these designs "are only valid at the present time as inspiring works of art for architecture, as they need a more comprehensive and accurate study that takes into account several basic architectural elements."
It is noteworthy that Old Cairo, also known as Fatimid Cairo, is replete with Islamic monuments, and has been listed since 1979 on the UNESCO World Heritage List, with 600 registered archaeological buildings.
https://www.archyde.com/an-image-that-occupies-the-egyptians-an-architecture-and-nothing-more-beautiful-in-cairo/?feed_id=3926&_unique_id=63162b1964ab4