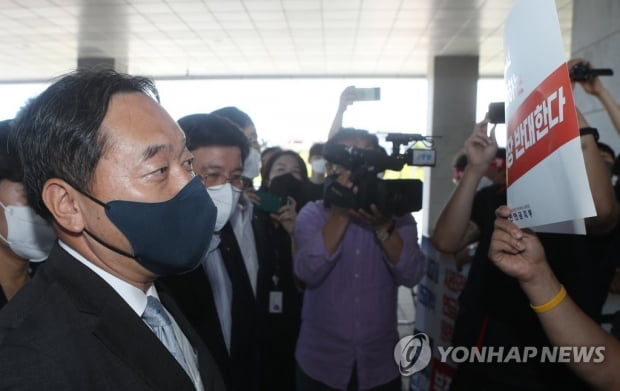 I couldn't go to work because of the union's stoppage and I turned away... Inauguration ceremony undecided
Kim Tae-hyeon, chairman of the National Pension Service, who took office on the 2nd, said, "I will do my best for the sustainable future of the National Pension Service."
In his inaugural address on the same day, Chairman Kim said, "The sustainability of the national pension system is a desperate task that must be achieved not only for the present generation but also for our future, the next generation. We will enhance sustainability and establish a stable retirement income security system."
In particular, he added, "People are more interested in pension reform than ever before." .
Regarding fund management, "It is a very important time to manage the risk of fund management in response to global inflation, interest rate hikes, and economic recession concerns," he said. It could be an opportunity to build."
Referring to the diversification of revenue sources through a flexible asset allocation system, he said, "We will seek ways to quickly introduce new asset classes and strategies and continue our efforts to establish responsible investment."
In addition, he said, "We will identify vulnerable groups in preparation for retirement, such as day-to-day workers, and incorporate them into the system.
Chairman Kim also promised, "In operating the complex, we will create a vibrant organization centered on competence and performance through rational compensation for work and personnel management that members can empathize with." .
Chairman Kim was inaugurated without an inauguration ceremony.
He was about to go to work at the National Pension Service in Jeonju, North Jeolla Province at 9:45 am that day, but was blocked by the labor union's struggle at the main gate.
Chairman Kim said to union members who are struggling, "I know many of your concerns.
They told me that I am not an expert, but I am not proud to be an expert, but I am not an outsider either."
Then, Chairman Kim said, "I do not intend to force myself to go to work," and "solving problems amicably through dialogue is one of the efforts for the development of the National Pension Service."
"We prepared for the inauguration ceremony today, but the schedule for the inauguration ceremony is undecided at this time," said an official from the Corporation.
Meanwhile, the Solidarity for Participation, referring to Chairman Kim's history in a commentary, said, "The National Pension Fund is not a capital to make a profit." We strongly criticize the government for appointing a person with a risk of causing harm, and demand that Kim Tae-hyun (former Deposit Insurance Corporation) president immediately withdraw his appointment."
/yunhap news
https://www.archyde.com/kim-tae-hyeon-inaugurated-as-chairman-of-the-national-pension-service-sustainable-pension-reform/?feed_id=3473&_unique_id=631346aad0476