My first time in World of Warcraft was so short that I didn't even get out of Stormwind. Later, some friends showed me the wonderful world of Azeroth
I was late to video games. Until almost 20 years old, my relationship with games was as simple as a pacifier: I played and discovered other games thanks to my friends. The end. Once in a while I would buy a video game magazine, but I never finished reading the whole thing.
I've been playing video games since I was little, but I didn't know anyone with whom I could share this hobby and obviously my parents didn't understand how the kid could spend 10 hours straight playing Driver 2. I missed out on so many things that I've had to catch up on.
World of Warcraft, the legendary Blizzard Entertainment game released in November 2004, was until a few years ago one of my pending subjects. How could I enter this wonderful world without dying trying?
My first time in World of Warcraft was so short that I didn't even get out of Stormwind.
my first contact with World of Warcraft It was in the video game section of a store with an el "Starter Pack de World of Warcraft"in physical version."World of Warcraft: Your most epic journey starts here". The pack contains a "Quick Start Guide" and 4 discs with the expansions:
The Burning Crusade (2007)
Wrath of the Lich King (2008)
Cataclysm (2010)
Pandaria (2012)

After a veneer of several days, one of my best friends agreed to go back to World of Warcraft. He was in front of that Starter Pack with the intention of buying it... and so I did. Later, I got home excited and put it to install.
When everything was ready, I began to give my first steps in WoW. It was all very new and exciting because so far I had only seen a couple of images and advertisements. My level of misinformation was overwhelming.
I chose to choose a Human Paladin (Alliance) as the first character. We did the first tutorial missions and then my friend gave me a tour of Stormwind, the city of the Alliance, while singing its incredible Soundtrack for the first time. And that was it, because then I was left alone.
There I was, wandering around the city, looking for something to do. I don't hesitate: I spent HOURS exploring without opening the map. I was so overwhelmed that I got overwhelmed and decided to leave it until my friend came back online. The point is that Never came back to play... neither do I.
I wasn't fooling you when I told you I didn't get out of Stormwind. It is verbatim. I didn't get to know the vastness of WoW. It took a few years for me to "trick" another friend into playing World of Warcraft.
I return to World of Warcraft as the champion Azeroth needs, but not the one it deserves
It was in the middle of 2019 with the expansion Battle of Azeroth (2018) that I returned to World of Warcraft. This time I was accompanied by a couple of friends: a veteran of the early days and a neophyte like me. I bought everything I needed to keep the content up to date and started playing a new character.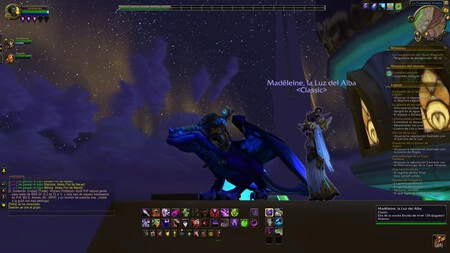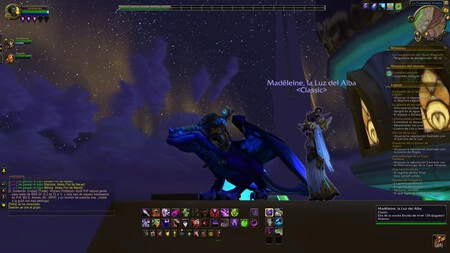 My adventures in World of Warcraft began again in Stormwind, but this time with a Warlock Worgen and more company. I became a sponge: I absorbed all the information that our teacher gave us. We played together for months and months. We still playing. My birthday presents came in the form of game time and a Pirate Ship mount.
My idea was to go through all the expansions before getting to Battle of Azeroth, but I soon realized how absurdly big it is. World of Warcraft. Learning all the lore as fast as he wanted was going to be impossible. I was going to have to go very slowly.
N'Zoth has fallen... #WorldofWarcraft pic.twitter.com/QAtETdMqlt

— Alberto's Library | Lycantocles ⭕ (@iLycantocles) June 14, 2020
I started in World of Warcraft with the Alliance and Jaina Proudmoore. I've arrived late? Very, very much. Mind you, the number of hours I played before making my first stop was insane. I discovered so many places, lived hundreds of stories and met both disgusting and incredible people. More incredible than disgusting, everything is said.
One of my favorite adventures was when I proposed tame the wolf Fenyr (image right) with my huntress in the Halls of Valor, a dungeon located in the Broken Isles and part of the Legion expansion. I still have it. It is one of my favorite areas for its clear inspiration in the Norse gods.
"The Titanic Pantheon appointed Odyn, Guardian of the Titans, to command the armies forged by them in battle against the Old Gods.
Later, he raised the Halls of Valor to the sky and established a force made up of the greatest vrykul champions to defend Azeroth. However, when Ulduar fell into Yogg-Saron's clutches, he suffered Loken's betrayal and Helya's curse, and was trapped in these chambers for all eternity.''
Now yes, now not... I want to go back to World of Warcraft
I made my first stop World of Warcraft after pre-ordering the Shadowlands expansion (2020). I came back at the end of 2021 to play the expansion I had bought, but it didn't take long for me to put it aside due to other releases and personal problems.
Shadowlands #WorldofWarcraft@Warcraft_ES | @Blizzard_Ent pic.twitter.com/tEAtoda6kr

— Albert | Lycantocles ⭕️ (@Lycantocles) December 10, 2021
Now, the Dragonflight retail expansion and the Wrath of the Lich King expansion for Classic have given me the itch again for World of Warcraft...although just thinking about all the Shadowlands content I have left to play makes me a little overwhelmed.
Also, I never got to play World of Warcraft Classic, the original World of Warcraft experience, the one that people who played the game from its inception had. And now it seems to me very, very much.
I'm not short of excuses... more so when I've looked at the Battle.net icon like 10 times since I started writing this post. I want to uninstall all the games I have installed, install World of Warcraft and disappear for a while in its amazing and huge world... at least until Skull and Bones and God of War Ragnarok, and then come back.
Now it's your turn: what is your story in World of Warcraft?What are your best and worst memories? Have you met amazing people while playing? I read you in comments.
https://www.archyworldys.com/my-first-time-in-world-of-warcraft-was-so-short-that-i-didnt-even-get-out-of-stormwind-later-some-friends-showed-me-the-wonderful-world-of-azeroth/?feed_id=1168&_unique_id=63321bc692b1b