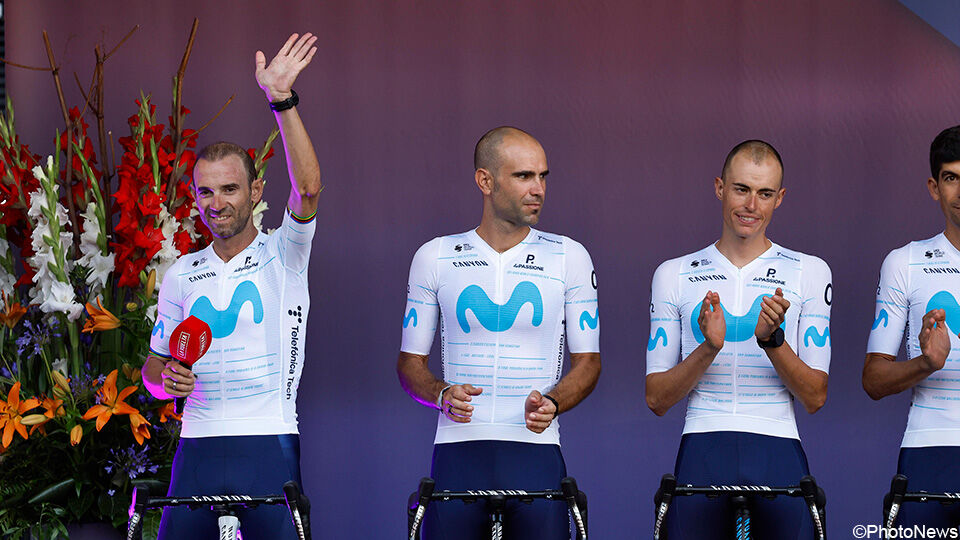 In the Vuelta, the Spanish cycling fans say goodbye to figurehead Alejandro Valverde. "The end of a golden generation", says Spanish cycling journalist Nicolas Van Looy. "In this Vuelta we will see if Spain still has a future in the Grand Tours."
10 years ago, the stage of the Vuelta was completely Spanish with Alberto Contador, Alejandro Valverde and Joaquim Rodriguez.
Now it is a matter of looking for Spaniards in the favorites lists with a magnifying glass.
And there may be even more disaster ahead: "If the last Spanish team disappears from the WorldTour, Spanish cycling will have a very big problem," says Spanish cycling journalist Nicolas Van Looy.
"Movistar urgently needs points in the relegation battle. If the team loses its WorldTour status, a Tour participation will also be difficult."
"I think ASO will give the French teams priority over Movistar. Who in Spain will still watch the Tour if there is no Spanish team?"
"In addition, there is a chance that Movistar will drop out as a sponsor if they are no longer part of the Tour. Movistar's relegation would be the biggest problem of the century for Spanish cycling."
"Hopefully Valverde will have a big party for 3 weeks"
The pressure is now in the Vuelta on the shoulders of a 42-year-old who is on a farewell tour: Alejandro Valverde.
"I hope that despite that extra pressure, Valverde will have a big party in the Vuelta for 3 weeks," says Van Looy. "Awarded a stage win."

"Within his team, Enric Mas and Carlos Verona will also have to score to avoid relegation from the WorldTour."
"The only problem with Mas is that he has a hard time mentally if too much pressure is put on him."
Can Alejandro Valverde win another stage in the Vuelta at 42?
Spain is looking for crown prince: "Ayuso is the great future"
"The departure of Valverde is the end of a golden generation," says Van Looy.
Spain dreams of finding a new crown prince in this Vuelta. There is potential with 19-year-old Juan Ayuso (UAE) and 21-year-old Carlos Rodriguez (Ineos Grenadiers).
"Ayuso is the great future of Spain. But in this Vuelta we cannot yet demand that he compete for the podium."
"He is only 19. Racing for three weeks is an unknown world for him."
"Maybe he will compete with the best for 1 week, maybe 2 weeks. Ayuso is in any case very intelligent, as a person and as a rider."
Carlos Rodriguez will experience less pressure in the Vuelta than Juan Ayuso
Spanish champion Carlos Rodriguez ((Ineos Grenadiers) is one step lower than Ayuso in Spain.
"If Rodriguez drives well, as in the Clasica San Sebastian, we are surprised in Spain: "Oh, Carlos Rodriguez is still among the best there", it sounds surprised."
"In the Vuelta Rodriguez does have the advantage that he has Carapaz in the team. He will experience less pressure than Ayuso in the coming weeks. Because at UAE they don't have a leader who can go for the overall victory."
Ayuso is the youngest rider to start the Vuelta.
"Landa is more concerned with Landismo than with classification"
In addition to Valverde's farewell and the search for a new crown prince, Spanish fans are also looking forward to the adventures of Mikel Landa (Bahrain Victorious).
"What can we expect from Landa? Nobody knows," says Van Looy.
"If he can ever win a big round, it will have to happen in the Vuelta. Maybe in this Vuelta. A good Landa is of the level of Carapaz. Only Roglic is still above them."
What can we expect from Landa in the Vuelta? Nobody knows.
Whether he performs well or not, Landa remains popular with Spanish cycling fans. "It all has to do with the Landismo."


The Landismo originated in the 2015 Giro. Landa then won 2 stages and thought he could compete against Contador for the overall victory. But his squad forced him to work for home rider Aru.
The less freedom of movement Landa was given and the more unlucky he was, the more fans joined the Landismo. They fervently hope that the attacking Landa will one day be spared bad luck and be rewarded with a smashing victory.
"I think Landa is thinking more about the Landismo than about the classification for this Vuelta," says Van Looy.
"In that sense, winning is not that important, as long as there is a story to tell like 'Landa is unlucky and wants to hit back tomorrow.'"
"The newspapers will write articles about it. Landa certainly enjoys the Landismo. He likes to joke about it on social media and interviews."
Landa has too often bad luck in a big round.
https://www.archyworldys.com/spanish-cycling-moans-movistar-relegation-would-be-the-biggest-problem-of-the-century-vuelta/?feed_id=937&_unique_id=6329f3151714b