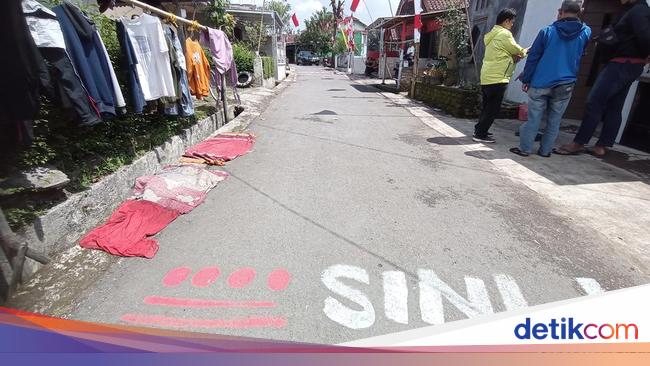 Bandung
-
Like the commemoration of the Independence Day of the Republic of Indonesia, sack races are commonplace in various regions. This competition is one of the favorite competitions held by the residents.
The sack race brings fun and excitement every year. Many deliberately took part in the competition in order to enliven the atmosphere, including when commemorating the 77th Anniversary of the Independence of the Republic of Indonesia.
The excitement of this sack race was also attended by Gunung Bubut Village, Cipawitra Village, Mangkubumi District, Tasik City, on Wednesday (17/8/2022). Cheers, laughter, and excitement were felt at the location, including when the sack race was being competed.
However, the atmosphere suddenly changed when a completely unimaginable incident finally occurred. A young mother fell to the ground. The woman's name is Rini (29) who just two months ago gave birth.
At that time, the victim was about to finish half the race. However, the victim fell to the ground. Immediately panic occurred at the location because the victim lost consciousness. Long story short, the victim was taken to the clinic, but his life could not be saved.
Grief is clearly now left with the victim's family. However, the victim's husband was heartened. He did not blame anyone for the incident that took his wife's life.
"The victim's husband and family said they accepted this incident as a disaster and would not sue anyone," said Mangkubumi Police Chief Iptu Hartono.
Rizki (32), Rini's husband, revealed that he had forbidden his wife from participating in the competition. Because at that time one of their children was sick. Rizki is also sick.
In addition, Rizki is worried about his wife's condition. Because, she just gave birth two months ago. "I was banned, do not take part in the competition," he said.
The committee and local residents also empathize with what happened to Rini's family. All prizes were auctioned off and the results were handed over to Rini's family. This was appreciated by the Head of Cipawitra Village, Tata Tahyadi.
Although the value of the auction results is not large, the steps taken by the committee and residents should be applauded. Moreover, the competition activity was stopped.
"The name is in the village, the prizes are just modest. But the committee's decision must be appreciated," said Tata.
He himself regretted the incident happened. However, everything has happened and no one expected the incident to actually happen to take their lives. This is a lesson for the future.
Meanwhile, regarding the victim who left three small children, Tata will try to provide assistance from the government.
"We have taken care of the KIP (Smart Indonesia Card) for the children of the victims. We from the local government will try to pay attention to the families of the victims left behind," said Tata.
Also watch the latest edition of Perspective, Visiting the Former 'Kampung Radikal'
[Gambas:Video 20detik]
(orb/orb)
https://www.archyworldys.com/the-stubbornness-of-a-husband-whose-wife-dies-in-a-sack-race/?feed_id=1120&_unique_id=633090ab2141d