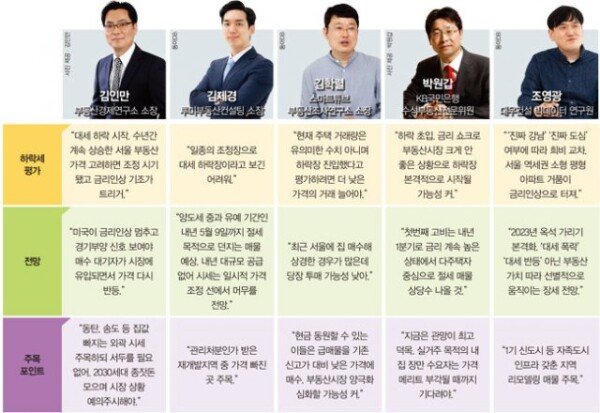 'Trend decline vs temporary adjustment' mixed... "Fear of falling prices, peak next summer" forecast

"The real downtrend has begun." vs "It's just a temporary adjustment."
While the transaction cliff in the real estate market is intensifying, some urgent sales are being traded at prices hundreds of millions of won lower than their highs in major areas of Seoul. In the market, there is a warning that the trend has begun in earnest and cautious theories that it is only a temporary adjustment centered on urgent sales. In a time of real estate chaos where you can't even know one inch ahead, the concerns of consumers who dream of owning a house are growing. On the occasion of Chuseok, 'Weekly Dong-A' asked five real estate experts about their evaluation of the market situation in January and August of this year and future house price forecasts.
National home sales in January-July plunged 46% from last year

This year, the domestic real estate market has seen a sharp decline in transactions. According to the Ministry of Land, Infrastructure and Transport (Ministry of Land, Infrastructure and Transport), the number of housing sales nationwide from January to July was 349,760, down 46% from the same period last year (648,260). By region, the number of transactions in the metropolitan area was 14565, down 56.1% from the same period last year, which was a larger decrease than in the provinces (209,265 cases, 36.2%↓). Apartment prices in Seoul, a key indicator in the real estate market, are also on the decline. According to the 'Weekly Apartment Price Trend' announced by the Korea Real Estate Agency, apartment prices in Seoul fell 0.11% in the fourth week of August, a bigger drop than last week (0.09%↓). It was the biggest decline since the first week of March 2019. Apartment prices in Seoul, which turned downward on May 30, fell for the 13th week in a row. Analysts of experts are divided on these market indicators. The view that the trend has begun to decline and the opinion that it is only a correction zone and that the trend needs to be monitored more crossed. Kim In-man, director of the Real Estate Economic Research Institute, said, "This is the beginning of a trend downturn. Director Kim said, "Just as a person cannot keep running, the real estate market has come at a time of adjustment, but the recent interest rate hike was a direct trigger. he explained. Park Won-gap, senior real estate expert at KB Kookmin Bank, said, "The current market situation can be said to be the beginning of a downturn.
The main reason for the assessment that the trend has started to decline is also the trend of global interest rate hikes. At the Global Central Bank Economic Policy Symposium held on August 26 (local time) in Jackson Hole, Wyoming, US Federal Reserve Chairman Jerome Powell said, "Reducing inflation requires maintaining a constrained policy stance for the time being." "I expect the central bank to continue raising rates in a way that causes some pain to the US economy," he said. Bank of Korea Governor Lee Chang-yong, who attended the 'Jackson Hall meeting', also said about Powell's remarks at a press conference on August 30 after returning home, "The future that the Bank of Korea announced at the time is not much different from what the BOK expected when it decided the base rate in August. There is no change in the direction of monetary policy operation," he said. The BOK raised the key interest rate by 0.25 percentage points at the plenary meeting of the Monetary Policy Committee in August. As the first four consecutive rate hikes in history, the base rate rose to 2.5% per annum. The interest rate on home mortgage loans in July was already 4.16% a year, the highest in about 10 years since January 2013 (4.17%). In response, Kim In-man analyzed that "After the US stops raising interest rates, it is necessary to monitor the market situation or show signs of stimulus, so that there is a possibility that the price will rebound again as people waiting to buy enter the market."
However, there is an opinion that it is difficult to see that the trend has entered a downtrend while acknowledging the trading cliff caused by the weakening of buying sentiment. Kim Je-kyung, head of Tumi Real Estate Consulting, said, "It is true that real estate buyers are difficult to 'get out' due to rising interest rates, so buying sentiment is expected to shrink for the time being."
The view that we need to break away from the dichotomy of 'trend decline and rebound'
A view of the apartment complex in Apgujeong-dong, Gangnam-gu, Seoul. [뉴스1]
The basis for judging that real estate prices are in a temporary adjustment phase is 'extremely low transaction volume'. Kim Hak-ryeol, director of Smart Tube Real Estate Research Institute, said, "In July, apartment transaction volume in Seoul barely exceeded 600 (639 cases based on Seoul Real Estate Information Plaza). However, it is questionable whether this should be regarded as a trend downtrend." "The current housing transaction volume is not a significant number, so to evaluate that the market has entered a bear market, more transactions must be made at a lower price." Director Kim Hak-ryeol said, "There is a lot of demand for people who own an apartment with an average price of 1.2 billion won in Seoul apartments to change to an apartment of 1.5 to 2 billion won, but they are unable to move due to difficulties in loans. The current situation." He also analyzed the effect of interest rates on the real estate market, saying, "Revenue-type real estate is sensitive to interest rates, but real estate is a case of moving, so it has relatively little correlation with interest rates."
There is also the view that we need to break away from the dichotomous view of 'trend decline' and 'trend rebound'. Jo Young-kwang, a big data researcher at Daewoo E&C, said, "This year's real estate market has been divided into victories depending on whether it is 'real Gangnam' or 'real city center'. In the Gangbuk area, Dobong, Nowon, Seongbuk, and Gangbuk declined, except for Jongno and Yongsan, which are downtown areas." Researcher Cho said, "The 'small flat in the station area', which has been the main target of gap investment, is leading the decline in house prices in Seoul. .
In the midst of this, the Yun Seok-yeol administration's first full-scale housing supply plan came out. On August 16, Minister of Land, Infrastructure and Transport Won Hee-ryong announced the 'Measures to Realize Residential Stability for the People'. Over the next five years, the supply of 2.7 million housing units, including 500,000 units in downtown Seoul, is the framework. The government plans to increase the supply of private housing by reducing direct government intervention and easing regulations on urban renewal projects such as reconstruction. However, Minister Won said, "It is not a matter that can be ended with the unilateral announcement of the Ministry of Land, Infrastructure and Transport, but a precise approach because each local government and each old house are different circumstances, respectively. We postponed the announcement of specific policies, such as "necessary consultation and consultation" "(National Assembly) matters that need to be amended". Experts agreed on the Yoon Seok-yeol administration's first real estate measures, saying, "It is positive to suggest a direction for deregulation, but specific policy details should be revealed as soon as possible." It is pointed out that there is a need for special considerations such as reintroduction, expansion of supply through improvement of the presale price cap, and cancellation of the area subject to adjustment.
The public's attention is ultimately focused on how the real estate market will go in the future and how to buy a house accordingly. 'Weekly Dong-A' asked five experts about ① future real estate market prospects and ② attention points in terms of buying a house and investing. The following is a summary of the conversations we had with each expert in a question-and-answer format.
"Opportunity for end-users when prices fall by 30% from the peak"
Kim In-man, Director, Real Estate Economic Research Institute
①"After the International Monetary Fund (IMF) bailout crisis in 1997 and the subprime mortgage crisis in 2008, real estate prices plummeted and rose sharply with a V. In this way, the market moves on to the next cycle only when (price) falls about 30% from the high. For example, a one-billion-won house should fall to 800 million won and then rise again to 900 million won. The problem is that in the recent real estate market, prices continue to fall as if clothes were soaked in a drizzle. The sell-off hasn't even started yet. By 2025, the 3rd new city will be released and the sell-off will continue. Only then will the trend uptrend come."
②"Recently, the local real estate market such as Dongtan New Town and Songdo New Town is not good. Since house prices fall from the outskirts, keep an eye on the market prices in these areas, but there is no need to rush. Although the atmosphere of falling house prices can be fearful, end-users need to enter the real estate market by judging when the price has dropped by 30% from the peak. People who did not have the opportunity to buy a house in the last chapter, like the 2030 generation, need to keep a close eye on the situation while raising seed money without feeling deprived."
Jekyung Kim, Director, Tumi Real Estate Consulting
① "The transfer tax will be temporarily suspended until May 9, next year. Since June 1 of every year is the payment date of the comprehensive real estate tax, there will be items for sale by multi-homeowners to reduce the tax burden. After a quick sale for tax-saving purposes is traded at a low price, not many people sell their house right away. As there is no large-scale housing supply scheduled for now, the real estate market is expected to remain in a temporary adjustment."
② "In the mid- to long-term, house prices are highly likely to rise again. So for those who are considering owning a home, this adjustment period may be an opportunity. There is always a concern that house prices will fall due to an increase in supply. However, the first shovel has not yet opened for the third new town, and even if the reconstruction of the first new town is rushed, it is highly likely that it will take 10 to 20 years to complete. Excluding the so-called Top 5, such as Hannam, Seongsu, Noryangjin, Ahyeon New Town, and Seongsu Strategic Maintenance Area, some of the prices in the redevelopment areas have also dropped. It is necessary to look at the price trend, focusing on the redeveloped areas with few occupants left."
Kim Hak-ryeol, Director, Smart Tube Real Estate Research Institute
① "In the suburbs of Seoul, apartment prices may be affected by the supply of neighboring Gyeonggi and Incheon. However, in downtown areas such as Gangnam 3 district and Yongsan, there is not enough supply compared to the potential demand. In recent years, many local residents have bought houses in Seoul and moved to Tokyo. Those who have just bought a home are unlikely to sell immediately. This is especially the case if you bought an apartment in Seoul when house prices soared last year. If August, the off-season for real estate, is over and downlink transactions continue to increase in major school districts in Seoul even after the Chuseok holiday, then the market situation can be evaluated negatively."
② "The answer is always fixed. The recent correction in prices indicates that this is an area that has seen significant gains over the past few years. This means that the real estate market is good. Even recently, those who can mobilize cash are buying the goods for sale at a price several hundred million won lower than the previous reported price. It is highly likely that the polarization of the real estate market will intensify in the future. If you can afford to mobilize funds, you need to keep an eye on the market price in the core areas of Seoul."

* If you search and follow 'Magazine Donga' and 'Two Bengers' on YouTube and portal, respectively, you can find various investment information such as videos as well as articles.
Reporter Kim Woo-jung friend@donga.com
https://www.archyde.com/five-real-estate-experts-say-house-price-forecast-after-chuseok/?feed_id=4403&_unique_id=6344349192d0d