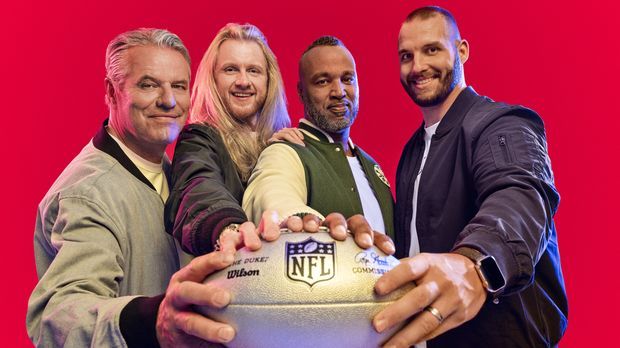 The NFL is finally home: Since the start of the regular season broadcasts on ProSieben MAXX 2015, both the football fans and the "ran" team have been waiting for an NFL game in Germany – now the time has come. On Sunday, November 13, 2022, ProSieben will be there live when quarterback legend Tom Brady and his Tampa Bay Buccaneers meet one of the most popular teams among German football fans, the Seattle Seahawks.
The start of the season: For the second time, ProSieben is showing the two Sunday games of the first game day live in prime time: The New England Patriots start on Sunday, September 11 with their division rivals, the Miami Dolphins, with commentary by Jan Stecker and Roman Motzkus. The last time the two teams faced each other was in January: The Dolphins won 33-24. Overall, the balance is in favor of the Florida team: 59 to 54 wins.
The Arizona Cardinals will then receive the Kansas City Chiefs, commented by Carsten Spengemann and Volker Schenk.
Three of the four teams made the playoffs in 2022, while the Patriots and Cardinals ended their road to the Super Bowl in the first round of the playoffs, the Chiefs only lost to the Cincinnati Bengals in the last game before the Super Bowl.
In the night from Thursday, September 8th to Friday, September 9th, ProSieben will be showing the Buffalo Bills season kick-off live at the Super Bowl champion Los Angeles Rams. From 2:00 a.m., Jan Stecker and Patrick Esume as well as Netman Christoph "Icke" Dommisch will report live from the "ran" studio in Unterföhring.
Football fans can follow all live broadcasts in the live stream on ran.de, in the ran app and on Joyn.
The #ranNFL live broadcasts at a glance:
In the night from Thursday, September 8th, to Friday, September 9th, 2022
2 a.m. Buffalo Bills @ Los Angeles Rams live on ProSieben and ran.de
Sunday, 09/11/2022
6:30 p.m. #ranNFLsucht – the NFL magazine live on ProSieben and ran.de
7:00 p.m. New England Patriots @ Miami Dolphins live on ProSieben and ran.de
7:00 p.m. San Francisco 49ers @ Chicago Bears exclusively in the stream on ran.de
10:20 p.m. Kansas City Chiefs @ Arizona Cardinals live on ProSieben and ran.de
In summary: Green Bay Packers @ Minnesota Vikings
Sunday, 09/18/2022
6:00 p.m. #ranNFLsucht – the NFL magazine live on ProSieben MAXX and ran.de
7:00 p.m. Tampa Bay Buccaneers @ New Orleans Saints live on ProSieben MAXX and ran.de
7:00 p.m. New England Patriots @ Pittsburgh Steelers exclusively in the stream on ran.de
10:20 p.m. Cincinnati Bengals @ Dallas Cowboys live on ProSieben MAXX and ran.de
In summary: Arizona Cardinals @ Las Vegas Raiders
More information in the #ranNFL Season Planner 2022: https://epaper.media/prosieben-prosiebenmaxx/nfl-season-2022-2023/
https://www.archyde.com/prosieben-celebrates-rannfldahoam-with-tom-brady-in-munich/?feed_id=4483&_unique_id=634cdf2d6fb64