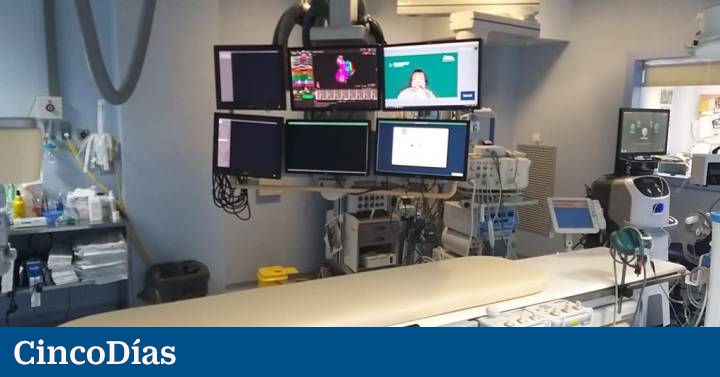 Cardiovascular diseases are responsible for more than 17.3 million deaths worldwide, according to the Pan American Health Organization. It is estimated that in 2030 almost 23.6 million people could die from any of these conditions. At the same time, we are witnessing an unstoppable development of telemedicine, whose remote solutions have made it possible to overcome geographical barriers and reduce the inequality gap between the health systems of different countries.
Telefónica Spain and Boston Scientific, a multinational manufacturer of medical devices, are working together to develop a remote control system for electrophysiology equipment in the recently created Remote Support Center (RhythmCare), located in Madrid and which will offer assistance to hospital centers in Europe, Africa and the Middle East.
The objective of both companies is to develop an improved digital solution that provides real-time, remote and digitized support to health professionals during procedures in patients with heart problems.
The new technology will allow the collection of technical information from different medical systems and its sending via secure, low-latency, high-bandwidth mobile communication to the specialist technician, who will be able to view and analyze the assistance to the doctor, providing remote support in real time as if you were in a face-to-face interaction. The system will also support the training of other health technicians and professionals.
The Navarre startup Tedcas collaborates in the project
Angelo de Rosa, vice president and general manager of Boston Scientific EMEA, declared himself "excited" that the American manufacturer and Telefónica establish this pilot association. "Boston Scientific is strongly committed to the digital transformation of the healthcare industry, and these types of solutions enable expert knowledge in the field to be enhanced, removing geographic barriers and improving their availability, which contributes to better outcomes for patients," he explains. the.
For her part, Micaela Martelli, director of ehealth at Telefónica Spain, points out: "This solution will help optimize care processes by facilitating remote intervention by expert professionals, avoiding unnecessary travel and thus reaching a higher number of hospitals. . This pilot is developed thanks to the firm commitment to ehealth and 5G made by two relevant players such as Telefónica and Boston Scientific".
The solution eliminates distances and avoids trips to doctors
The Spanish multinational will contribute its experience in the development of technological solutions in the field of e-health, where it is already a reference in the implementation of use cases applied to surgical operations based on these new procedures.
The initiative represents an important advance in the digital transformation of Boston Scientific, as well as a commitment to the development of this type of solutions that will benefit patients. Tedcas, a Navarran company in which Wayra, Telefónica's startup accelerator, has invested, also collaborates in the project. Tedcas has developed the device according to the required needs.
connectivity. Thanks to the fifth generation of mobile communications, the number of connected devices will increase exponentially. Vehicles, industrial robots and all kinds of domestic devices (alarm, washing machine, television, etc.) will be able to link up and share information in real time.
Holograms. In a meeting room, attendees wearing augmented reality glasses will be able to access the telepresence service and have the participation of a remote attendee, like a three-dimensional volumetric figure. Presentations of albums, movies or celebrities such as soccer players can be made in real time through this technology.
Cybersecurity. Thanks to 5G connectivity, the foundations will be established to create a connected, digital and constantly evolving road safety network. The vehicles will be connected through a high-quality data system and will be safe from the injection of illicit data. The system will preserve the anonymity of connected users.
Agriculture. The digital transformation of the agricultural industry into a more sustainable model will make it possible to create new, more precise management systems, optimize resources, reduce water consumption and increase productivity in the field.
https://www.archyworldys.com/telefonica-and-boston-scientific-bring-telemedicine-to-cardiac-interventions-companies/?feed_id=1399&_unique_id=633a439cadf7d