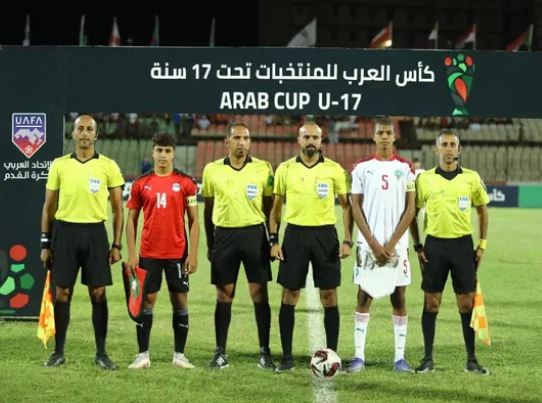 Ali Al-Buhairi
Posted on: Saturday 3 September 2022 - 1:48 AM | Last update: Saturday 3 September 2022 - 2:30 AM
The delegation of the Egyptian junior national team, born in 2006, submitted an official complaint to the Arab Football Association and the Organizing Committee of the Arab Cup against the Lebanese referee, Maher Al-Ali, who managed the match between Egypt and Morocco in the Arab Cup quarter-final.
The complaint included that the decision to choose the Lebanese referee to manage the match was the right side, especially since the Egyptian team defeated Lebanon with nine clean goals in the first round, so the organizing committee and the referees committee of the Arab Federation were supposed to take into account this matter.
The complaint also included the prejudice of the Lebanese referee to the players of the Egyptian national team in many decisions, before he overlooked the award of a 100% correct penalty after the Moroccan player tackled Omar Khadr's shot from the Egyptian national team inside the penalty area.
Although the fourth referee of the technical staff of the Egyptian national team confirmed that the game was a penalty kick for the Egyptian team, the assistant referee referred to the penalty point and confirmed to the court referee that the ball touched the hand of the Moroccan player, but the referee refused to calculate the decision in favor of the Egyptian team.
https://www.archyde.com/the-junior-team-complains-to-the-lebanese-referee-maher-al-ali-to-the-arab-federation/?feed_id=4516&_unique_id=6350832a5339f