Covid-19 cases, Bangkok province is still heavily infected with the highest death toll Samut Prakan, the cumulative amount exceeds a hundred thousand.
On September 19, reporters reported that Coronavirus Disease 2019 (COVID-19) Situation Administration Center (CDC) reports the situation of the epidemic of COVID-19 in Thailand that Today, 13,576 new cases have been found, categorized as 12,048 new cases, 1,120 active community searches, 13 confirmed cases from foreign travelers, and 395 new cases in prison/detention centers. Accumulated confirmed cases. 1,447,614 cases, 1,476,477 cumulative confirmed cases since 2020, 12,492 more recovered today, 1,302,593 cumulative recoveries, 1,330,019 cumulative recoveries since 2020, 117 deaths today, 15,269 cumulative deaths since In 2020, a total of 15,363 people were treated, of which 131,095 were treated, 45,044 were hospitalized, 86,051 were in field hospitals and others, 3,646 were severely ill and 768 were on ventilators, while the cumulative number of vaccinated recipients since February 28. – On September 18, a total of 44,485,657 doses in 77 provinces, the number of people who received the first dose of vaccine was 28,893,133, the second dose was 14,971,317, and the third dose was 621,207.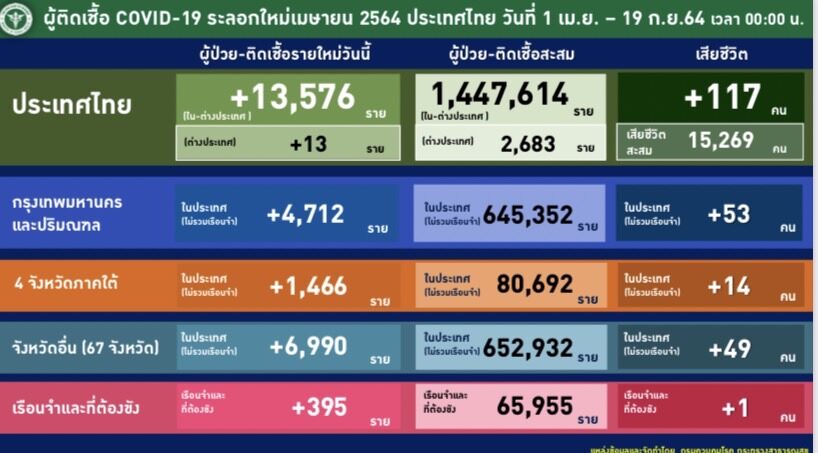 The report further stated that For 13,576 new cases, it is divided into those in Bangkok and its vicinity. Excluding prisons, 4,712 cases in 4 southern provinces Excluding prisons, 1,466 cases, other provinces (67 provinces) 6,990 cases, of which 395 prisons and prisons, 117 deaths, comprising 75 males, 45 females, 114 Thais, 2 Myanmar and 1 Indian. 22 deaths, Samut Prakan 12, Samut Sakhon 9, Nakhon Pathom 7, Nonthaburi 3, Ubon Ratchathani 2, Kalasin 2, Nakhon Ratchasima, Surin and Yasothon each, Phichit, Nakhon Sawan and Phetchabun, 2 each, Chiang Rai and Uttaradit, 1 each, Pattani, Narathiwat. 4 each, Ranong and Songkhla, 2 each, Chumphon and Phuket, 1 each, Phra Nakhon Si Ayutthaya, 6 each, Ratchaburi and Chonburi, 4 each, Lop Buri, Ang Thong and Rayong, 2 each, Prachuap Si Ri Khan, Samut Songkhram, Kanchanaburi, Suphan Buri, Chachoengsao, Sa Kaeo, Trat and Nakhon Nayok each. 1 person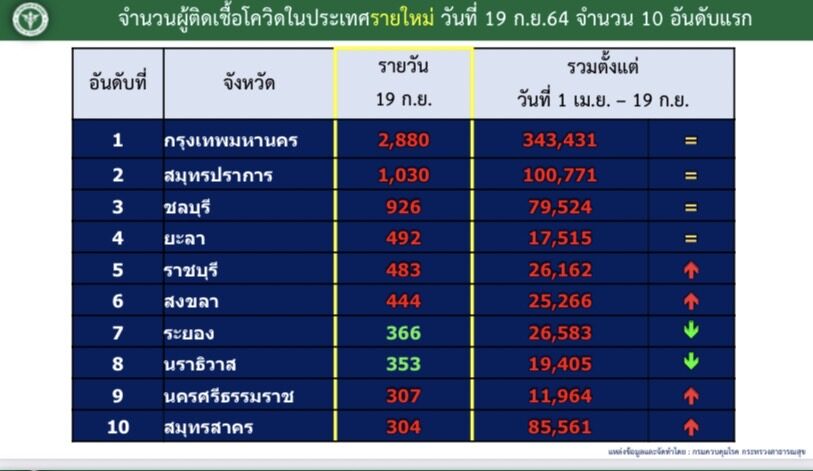 Most of the deceased had underlying diseases or risk factors for their severity, such as hyperlipidemia, kidney disease, heart disease, etc. While the risk factors for contracting COVID-19 Still infected by family members, friends, people in the community, risky occupations, entering crowded places to the epidemic area, etc. As for the infected people who travel from abroad, 13 are divided into Russia, the United States, Oman and China, 1 each, United Arab Emirates 2, Malaysia 3 cases, Cambodia 4 cases.
The report further stated that for the top 10 provinces with the highest number of COVID-19 cases, In the country, the highest new cases, number 1 is still Bangkok (Bangkok), 2,880 new infections today, 343,431 cumulative cases, 2nd place, 1,030 Samut Prakan cases, 100,771 cases, 3rd place, Chonburi 926 cases, 79,524 total cases, 4th place, Yala 492 Total 17,515 cases, 5th place, Ratchaburi 483 cases, 26,162 cases, 6th place, Songkhla 444 cases, 25,266 cases, 7th place, Rayong 366 cases, 26,583 cases, 8 Narathiwat 353 cases, 19,405 cases, 9th place, Nakhon Si Thammarat 307 cases, 11,964 cases 10th place, Samut Sakhon 304 cases, cumulative total 85,561 cases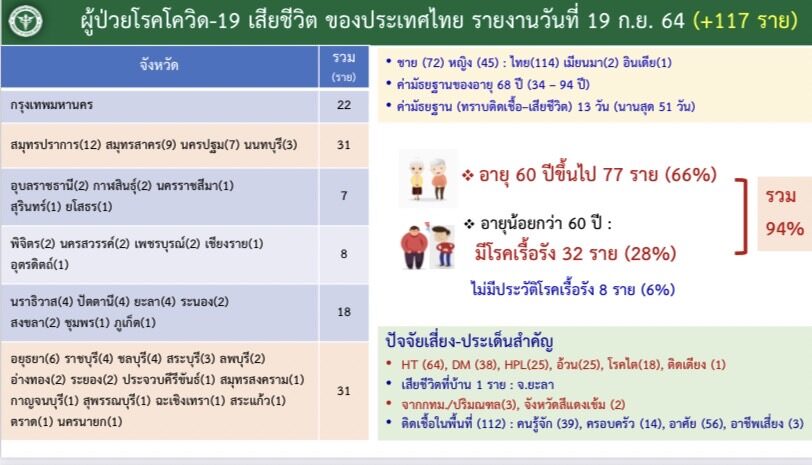 The post Covid-19 cases, Bangkok provinces are still heavily infected, the highest death toll, Samut Prakan, the cumulative total exceeds 100,000 appeared first on Archyde.