Marian Banaś – President of the Supreme Chamber of Control (NIK) is also on the list of her clients. The company led by Joanna Segelstrom turned out to be a financial pyramid, and the transactions it concluded were money laundering. – He can charm people. He knows what to say to win over a man – said the woman deceived by her.
SEE: Olsztyn. Police found the missing man's body, the other is still wanted
The total loss caused by the Polish woman is estimated at PLN 300 million to PLN 1 billion, which is more than Amber Gold. – I practically stopped living. All the money I had, savings – was swallowed up, said Segelstrom, defrauded.
Who is the most wanted Polish woman in the world?
To understand why Joanna is wanted by over 190 countries around the world, you need to look at her biography.
A woman from Wadowice left for Sweden shortly after graduating from high school. There she put her life back together and cut herself off from her relatives in Poland. – She said that her mother was a correspondent, her father was a dealer, which of course was not true – said Agnieszka Szwajgier from Radio 357, who is the author of a series of reports on Joanna Segelstrom.
SEE: Opolskie. He was wanted by an arrest warrant. Police officers found the 44-year-old in a cannabis plantation
The journalist talked to Joanna's friends from the school in Wadowice, among others. – She has never been interested in art, we are all surprised – said the friend of the wanted.
It is known about Joanna's life in Sweden that she got married and gave birth to a son, Mikael. There, in the 90s, she opened her first art gallery in Trelleborg. The dynamically developing business meant that in 2017 Joanna was one of the ten best earners there.
Joanna quickly expanded her activities beyond Sweden, and the life of a Polish immigrant and her son can be described with the word – luxury.
New friends and new investors
The next places are another exclusive parties and new acquaintances – and hence new investors, which were not lacking. From 2012, Galleri New Form – because that was the name of Joanna's art gallery – began to open its branches in Poland – in Gdańsk, Warsaw and Białystok. From the beginning, Joanna was in business with her son Mikael – he was the one who opened new galleries – in Spanish Marbella or in Miami.
VIDEO: The most wanted Polish woman in the world. Material of the "Report"
Joanna's offer was simple – investors were to buy the works of art that the Polish woman exhibited in her gallery, then the woman after some time was to buy these works from buyers with a guaranteed profit – from a dozen to even several dozen percent. Certain profit attracted many customers, including actress Grażyna Wolszczak and the head of the Supreme Audit Office – Marian Banaś.
SEE: Wrocław. He drove onto the sidewalk where the father and the child were. Driver wanted
– There were people from the front pages of newspapers, but also ordinary people who took loans for these investments – informs the reporter. Later, however, the trade in works of modern art turned into a financial pyramid, the losses of which are estimated at up to one billion zlotys.
Financial pyramid
Joanna's business is a whole network of connections and dependencies – she and her son Mikael stood at the top of this pyramid – they opened new showrooms and galleries, and dealt with this prestigious part of the business. At the heart were those most trusted brokers who received high transaction and accounting commissions, which determined the payment of money and established new "daughter companies".
Below, there were associates who met their friends most often and were looking for new investors in this circle. In the end, the so-called investors – they were the ones who were exposing money, unknowingly driving this criminal mechanism.
SEE: Wrocław. He drove onto the sidewalk where the father and the child were. Driver wanted
However, at some point the Segelstrom puzzle started to crumble. The entry on the KNF's list of public warnings in 2017 was the beginning of the end of the project.
The woman denied financial problems until one day Joanna and her son Mikael disappeared.
Edyta and Oksana, the women lost their money – they were cheated by the same man, he was Joanna's associate, who brokered the transaction. Oksana has invested 300,000. PLN, and Edyta 120 thousand.
In the beginning, everything was on time
– He was a family friend, he promised some profit, he said that everything is legal, he met us in Arcadia – Oksatan, a woman deceived by Joanna Segelstrom, told reporters.
Edyta added that "he called very often, was interested in his clients". The women bought the sculpture – received a certificate, but never saw the work physically.
Initially, it invested PLN 20,000. It was four investments, each time, no problem – after six months there was money on schedule.
– Until then, just where I started to invest larger amounts with my friend – they were then larger, more expensive works of art – said the deceived woman.
SEE: Russia. Two-year-old found in the woods after four days of searching
A woman, after one of the investments, was invited on a trip to Malmö at Joanna's expense. A large group of people from Poland flew there, including famous people. – There were three days organized by Joanna, there were beautiful meetings in a showroom in Malmö, where Joanna, in a beautiful outfit, in which you can say that she played a play – talked about art.
– I am ashamed that I invested, that I let myself be so approached, so deceived – admitted Edyta.
Journalists of the "Report" managed to reach the broker who was involved in the deal between Edyta and Oksana. The man lives and works in Warsaw's Wilanów.
They are still elusive
As reported by the journalists of the "Report", the man was a very close associate of Joanna Segelstrom. The broker had 10 percent. commission on the transaction made.
He says about his acquaintance with Joanna that "she was such a person, so friendly, you could talk to her normally". – She was such a worldly woman, knowledgeable, inspired great trust. I did not meet her at any parties or somewhere – he added.
SEE: The Netherlands. Customs officers intercepted 4 tons of cocaine that was supposed to be delivered to Poland. "It's something incredible"
Although Joanna and her son have been elusive for three years, their companies are still registered in Warsaw. The address of one of them points to a guarded estate in Ursus. Teresa K. – Segelstrom's proxy is also to have her business here.
The Internal Security Agency and the Regional Prosecutor's Office in Białystok are investigating Joanna and her associates. "So far, two people have heard allegations of fraud," he said Stanisław Żaryń, spokesman for the Internal Security Agency. Bthey lived as intermediaries in the trade of works of art. They will respond with a free footprint. The prosecutor's office secured their property – over PLN 17 million.
SEE: Tarnowskie Góry. The policemen are looking for a missing 15-year-old girl
The services also searched Joanna's apartments – they secured a luxury car, gold and silver and 5 million zlotys in cash. The Swedish side does not conduct any investigation – part of its property was seized by the Swedish trustee.
Joanna's relatives still do not believe that it is the woman behind the billion-dollar scam. – I still don't believe it. I hope he is alive – said the relatives of the fraudster. Joanna and Mikael face up to 15 years in prison for fraud and money laundering.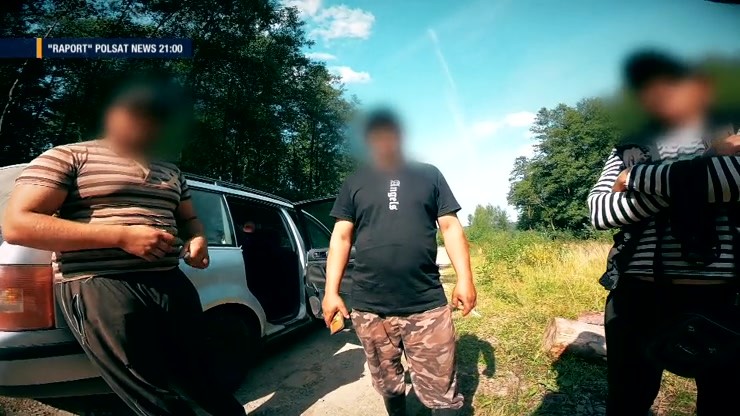 aml / jo / Polsat News
read more
The post Joanna Segelstrom is wanted by 190 countries. She cheated, among others Marian Banas appeared first on Newsy Today.