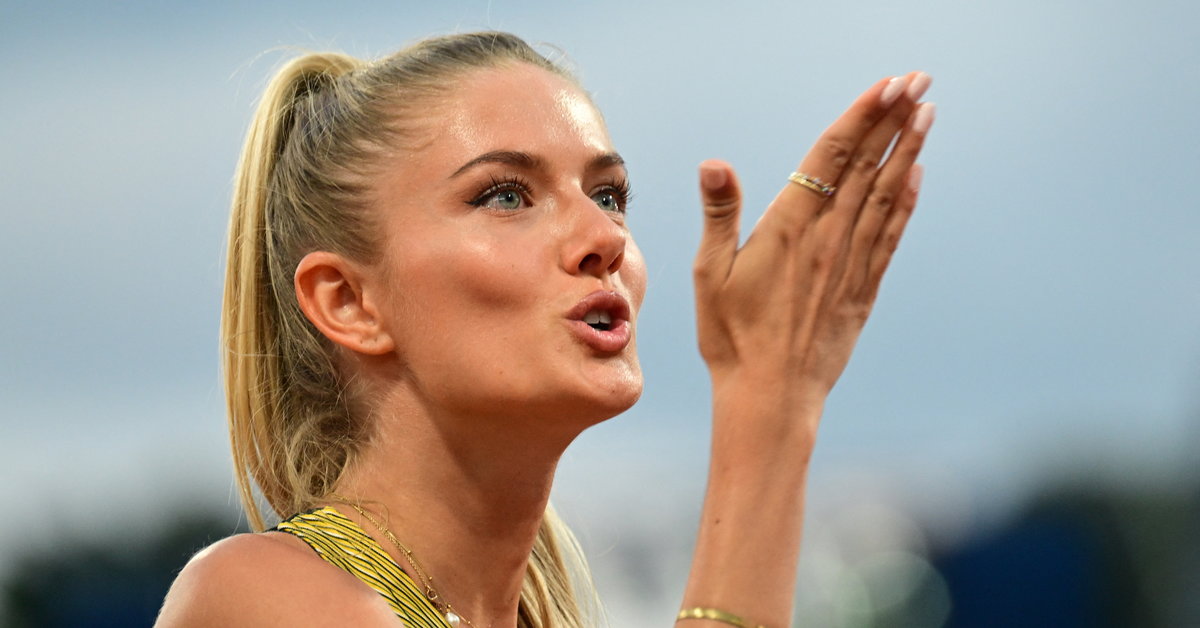 The most beautiful and famous, but not the fastest of all: Alica Schmidt, the glamor girl of the athletics world. With 3.2 million followers, the 23-year-old is at the top of Instagram. Its 400 meter run during the European Championships in Munich was watched by three million TV viewers on Monday evening. In the Wednesday semi-final, the Worms-born player was eliminated last, with a time of 53.12 seconds.
Even so, Schmidt was the most sought-after competitor by international TV stations and showed no sign of dissatisfaction.
"I am very happy that I got to the semi-finals" - said the competitor. Her last international medal was also some time ago. In 2019, together with the relay, she won bronze at the U23 European Championships. During her first World Cup appearance four weeks ago in Eugene, she was eliminated in the preliminary race in both the mixed and women's relay. The competitor, taking third place at the German Championships, voluntarily canceled her individual start.
Why isn't it a sport and why her Instagram reach fills her bank account? "It focuses very specifically on individual advertising offers, also thanks to its enormous reach in social media, certainly an additional six-digit sum comes in every year," analyzes social media expert Florian Gress from WePlayForward.
In addition, she has an exclusive contract with the Boss clothing company, is a model and appears in television programs. Schmidt has just bought a second condominium in Potsdam.
The article continues under the video
Her internet hype started in 2017. "I won a silver medal with a 4x400m relay team. I posted pictures of this and a few magazines suddenly wrote to me," recalls Schmidt. Australian magazine "Busted Coverage" named her "the hottest female athlete in the world" this year. This headline was going to pay off. From then on, the number of Schmidt followers soared. "Within a month, I had 100,000 followers, it all happened incredibly fast. It was downright scary for me," said the athlete.
However, the driving force could also be photos in bikinis or other sexy outfits that the athlete regularly posts alongside sports content. This took off well on social media. Most of the photos were taken by her boyfriend Fredi Richter-Mendau, a canoeist with whom she has been dating for six years. For his sake, she also moved from Ingolstadt to Potsdam.
However, the big breakthrough came only last year. At the Tokyo Olympics, Schmidt was a substitute runner in the German relay race, but was not entered. Which made her even more active on Instagram in Japan. "From the very beginning I knew that I would be used only in crisis situations. Two girls would have to give up. It was a different situation" - said the athlete. Her photos also attracted international attention. Even the New York Post has now named Alica Schmidt as "the sexiest sportswoman in the world". "It changed her career permanently," said Gress. Only during the Olympics, she won over 200,000. new subscribers.
"Still unbelievable how it all developed. I never expected it and it was never my goal," said Schmidt. "In the meantime, I am also often recognized and they approach me on the street. It's always a new experience, but it's also nice to meet the people behind Instagram accounts" - added the athlete.
Schmidt not only made herself known to her followers, but now earns more than most of her competitors who were much faster on the track. She successfully modeled for Boss after the Tokyo Olympics, starred on TV shows, competed in a fun race against the world champion Mats Hummels, who she clearly won and dated world stars such as Neymar. She is grateful: "These are all moments and experiences that I really appreciate. First of all, I live and breathe athletics and at my training ground I am at home".
Her celebration has already paid off for the sport. "I am the first rider in the world to stand on the track wearing a Boss racing suit. It already makes me incredibly proud."
Which, although she was much more successful on Instagram than on a tartan track, she still repeats: "I just want to be noticed as an athlete, I want to inspire young people and give insight into my beautiful sport." For this, it does not hurt to speed up a bit. Another chance will come on Friday at the European Championships in Munich, in the qualifying rounds of the 4x400 m relay.
***
Sports pensioner. He is not ashamed of this term, although he admits that until recently, after returning to Poland, he felt like a junior. He made a mistake that has consequences to this day. - I set up this grill myself, set it on fire myself and either threw myself on it or knocked it over - says Michał Żewłakow in an honest conversation with Łukasz Kadziewicz. "In the shadow of sport" tells about what he had to face and whether he drew conclusions. Above all, however, it tells about the future of Polish football. He points out who he would see as national team coach, explains where he would start fixing our football, and explains why he believes that the first thing to succeed is ... to grow up.
Creation Date: August 19, 2022, 09:00
https://www.archyworldys.com/instagram-photos-boosted-her-career-the-athlete-delights-the-world/?feed_id=748&_unique_id=632812ff6b83f